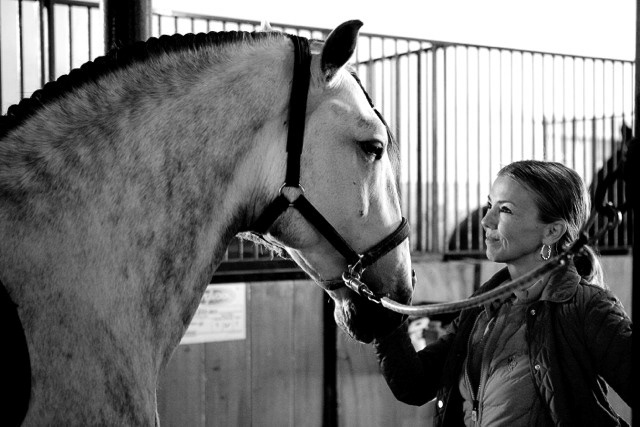 CavalReal is a small team of equestrian professionals dedicated to the breeding and selection of PRE dressage horses*.
We prefer our PRE horses to be of great nobility to celebrate the Spanish heritage, with exceptional functionality and movements that matches the demands of modern-day sport. To assure longevity in both training and competition, we strive to develop PRE horses with great physical strength and excellent health.
Rather than aiming for volume, we aim for quality. Our goal is to present you with few but very good PRE dressage horses, and to facilitate the perfect match between a rider and his or her dream horse.
True to the Andalusian heritage, we like working with people that are simliar to our horses: Honest, transparent, serious and devoted. We believe in building good relations over time with a small and select number of PRE riders, breeders and other aficionados, rather than trying to deal with everyone.
If you like to stay updated on our horses and events, please sign up to our occasional newsletter at the bottom of this page.
(*) The terms "PRE", "Pura Raza Española", "PRE Andalusian" and "Purebred Spanish horse" are all names for the same breed. A horse that is called an "Andalusian" may or may not be a purebred Spanish horse. The only horses that are considered purebred Spanish are those that are registered in the official international breed registry, ANCCE.
International PRE Dressage Horses with an Andalusian Touch
Even as early as in the Roman days, the horses bred on the soft banks of the Guadalquivír river in Andalusia were famous for their bravery, strength, beauty and nobility. Throughout history, emperors, kings and the nobility have prized the Spanish horse for its its exceptional qualities.
Back in Spain, apart from being used as elegant and strong carriage horses, the Andalusian horses were also often the breed of choice in the demanding and dangerous work managing the bulls in the fields. In the traditional way of life that still exists more or less unchanged in Andalusia today, the "vaquero" (Spanish cowboy) confronts those same bulls on horseback. With incredible speed, fortitude and intelligence the horse maneuvers the bulls in a close union with his rider, where reflexes must be fast and razor sharp to avoid the deadly horns of the temperamental and unpredictable bulls.
Because of its versatility, athleticism, fantastic temperament, overall usefulness and noble character, the Spanish horse has been used as to improve and create new horse breeds, such as the Neapolitan horse, Groningen, Lippizaner, Kladruper, Hanoverian, Holstein, East Friesian, Oldenburg, Friesian, Gelderland, Frederiksborg, Knabstrupper and Azteca.
In our days, purebred Spanish horses can be found in small numbers throughout the world. The breed is increasingly in demand by dressage riders worldwide who want a an athletic horse who is safe, comfortable and fun to ride, to all the better enjoy their favourite equestrian sport.
Horse lovers from all over the world appreciate the purebred Spanish horse for its temperament, kindness and willing, loving nature. The beautiful, healthy and useful PRE horse that come out of the best bloodlines today is the result of many hundreds of years of expert breeding.
There are those that criticise the Spanish horse for not moving or behaving exactly like other popular horse breeds in the dressage world today. But for anyone who is looking for a horse with the kindness, athleticism, flexibility and generosity of character to share our most cherished activities with us, there are few breeds that can compete with the purebred Spanish horse.
​​​​