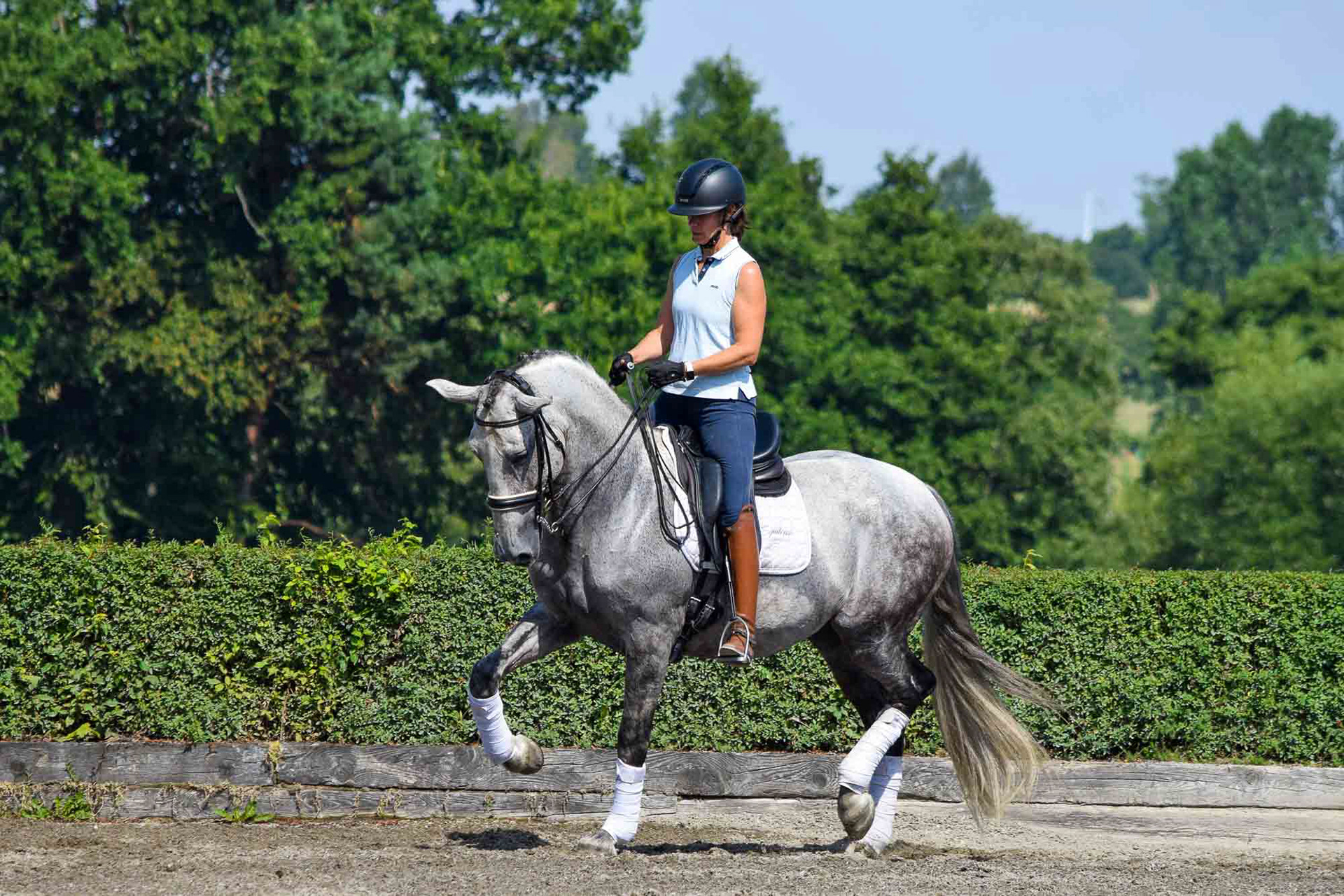 Steady and secure PRE dressage horse currently training at the Medium level with  Scandinavian elite rider
Grey gelding born 2014, 165 cm / 16.1 hh of top origins. Well ridden and cooperative, with three good gaits and an excellent character. Great ground manners and no vices. Piro free.

Currently training at the Medium level. Recommended for FEI dressage / competition.
Alcázar Real is the perfect partner for the rider looking for an uncomplicated and easy to ride dressage horse, for training and / or competition.
He can also be an obvious prospect for a YR or U25 Rider, wanting to be able to compete at Grand Prix level in the future.
Breed / Color / Gender:
 PRE (Pura Raza Española) / Grey / Gelding
Pedigree:
Fer Bulería (Mañoso II x Kanaka III) / Joyero (Corinto X x Joyera XI)
PRE Bloodlines: 
Marin García, Guardiola
Character
: Intelligent, analytical and perceptive. An uncomplicated horse, a good and positive worker. Calm, steady and unafraid with good energy and drive under saddle. Well-educated and well behaved, he is the perfect companion to bring out to your training clinics and competitions. 
Pedigree: 
SIRE
The father Fer Bulería is a famous and highly respected PRE stallion across both Spain and the rest of the world. A Functionality Reserve Champion of Spain and Grand Champion of Movements, his list of merits is long and impressive and is the only stud stallion of the world famous Ferrero brand that is trained to the Grand Prix level in FEI dressage. 
Alcázar's father is
Fer Bulerí­a
 (Kanaka III x Mañoso II, Yeguada Ferrero), Reserve Champion of Spain. An Absolute Champion of Functionality, Absolute Champion of Movements and an Absolute Champion of the Breed, Fer Bulería is the winner of over forty medals in Spanish breed championships. He has competed in FEI dressage and is training at the Grand Prix level. A spirited and energetic horse to ride, he has a huge and generous heart, and is always very willing with his rider; normally transmitting this kind and generous character to his offspring.
MATERNAL GRANDFATHER
The mother is from the 
Joyero line
 (
Corinto X
 - 
Educado X -
Centella V)
The Guardiola stallion
Centella V
was Champion of Spain 1984 and is a key to some of the best Spanish dressage bloodlines, such as the one of 
Educado X,
 four times  SICAB gold medalist, and himself the father of many Spanish (PRE) champions. 
Maternal grandfather Joyero (Corinto X x Joyera XI) is a grandson of
Educado X
, and gives excellent dressage offspring with very good, often naturally uphill movements, which is rare in the PRE breed. 
International Grand Prix star 
Joyero
 (Corinto X x Joyera XI) is...
– 2 x Reserve Champion of Spain (SICAB 2016, 2017)
– The only PRE that competed in the Young Horse Championship in Ermelo 2018
– Together with
 Curioso JLE,
 the only PRE that competed in
 the 2018 World Equestrian Games
 in Tryon, France.
Eager to to know more about Alcázar Real, contact us at CavalReal! Please use the form below.

Bronze: €3.000 – 10.000
Silver: €10.000 – 25.000
Gold: €25.000 – 50.000
Platinum: €50.000 – 75.000
Diamond: €75.000 – 100.000
Professional: €100.000 and over