Creativa Real (Trajano IV x Inducida IV), born 2016, Yeguada CavalReal
Creativa is a PRE filly with a fantastic temperament. She is energetic, with a very soft, friendly and open character. Her dad Trajano is 100% pure Guardiola, and one of the dressage stud of BRH's (Yeguada Benito Rodriguez) PRE movement stallions. On the mother side, Creativa shares the same lineage as the black Grand Prix horse Intruso X, that competed successfully in Spain with
José-Antonio Garcia Mena
, the Spanish national team rider.
Breed: Pura Raza Española (PRE)
Ancestry

Origins: Guardiola (Maromo, Gorron II), Yeguada Militar (Agente)

Creativa's father is the 100% pure Guardiola stallion
Trajano IV
(Martelillo IV x Gramatica), one of the top stallions of the BRH Stud farm in Spain. An expressive and kind PRE stallion with exceptional movements, Creativa was the last
Trajano IV
 offspring to be registered in the genetic library of ANCCE, after he passed away in 2017.
Trajano IV is a brother of a number of successful FEI dressage horses from the BRH stud: Ebano BRH - a black FEI dressage horse and one of the best mover ever bred by the BRH stud until 2018, Centeno BRH - a Prix St George horse competing with Barbara Bonk in the US, Nubio - a JRR FEI Grand Prix-horse, Tracio – qualified JRR Guardiola stallion, and one of the highest scoring FEI Grand Prix 71.7% and qualified PRE stallions in America. (Dancing Kings Farm, California), Abanico XVIII – qualified JRR FEI Prix St George stallion (Gerval Dressage, Canada).
Trajano IV (Martelillo IV x Gramatica, b.
Yeguada Benito Rodriguez
), 16.63 hh / 169 cm. A Guardiola stallion of the Maromo/Gorron II line. 
You can see some photos of Trajano IV in the gallery here below.
Creativa's mother is black PRE mare Inducida IV.
Inducida IV, a black PRE Andalusian mare that has qualified for and competed in 
the Spanish World Championship SICAB
, with excellent movements scores. 
Her brother Intruso X is a black Grand Prix-horse that trained and competed successfully in Spain with Olympic rider José-Antonio Garcia Mena. Intruso X is JRR, "Joven Reproductor Recomendado", the official denomination for a PRE stallion recommended for the breeding of dressage PRE.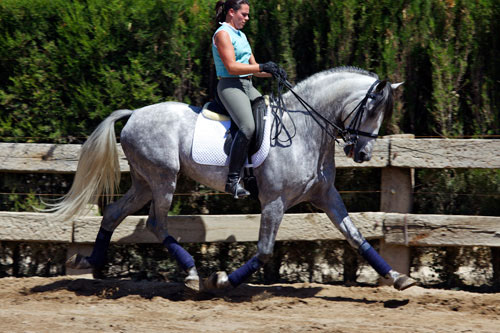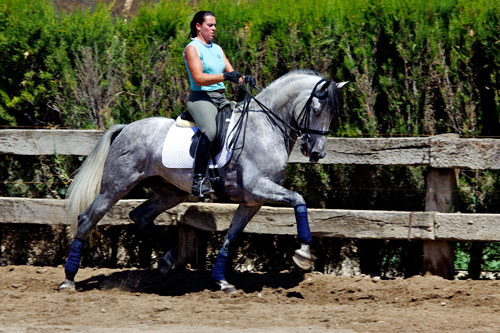 Creativa Real's Brothers & Sisters