Gala VG (Mariscal XLIX x Camelia XXII, Yeguada Velasco Gonzales), Pura Raza Española Mare
GALA VG is a bay PRE mare with good movements in all three gaits. Measuring
 170 cm / 16.3 hh, she is extremely tall for a purebred Spanish mare. With an objective to breed PRE dressage horses of 168 - 170 cm, we selected her for her height, good movements, and champion origins. As a PRE brood mare, she has proven herself by giving us some of our best-moving and most beautiful offspring, all of them fathered by Fer Bulería.
Her temperament is kind, gentle and noble, and she has a regal air about her. As a brood mare, she has always gotten pregnant right away, and then given birth like Spanish mares do out in the fields in nature surrounded by her flock, uncomplicated and true. A great mother to her foals, and never sick or with any health problems ever, at all. 
Dressage Skills
Before deciding if we were going to breed with Gala, we wanted to see how she was doing under saddle to determine if she had the qualities we'd like to see in our offspring. 
Here below you can see Gala VG ridden by professional rider Maria Carnerero in a dressage clinic with Enrique Cruces, the technical director of the royal dressage academy of Ronda, that is located in Southern Spain. 
When our technical advisor confirmed that Gala was ready to compete in the FEI Young Horse classes, we decided go ahead and let this wonderful PRE mare become a mother.

Ancestry
This 170 cm / 16.73 hh, dark bay multichampion, qualified ("
Calificado
") stallion is a recognized stallion in Spain with 54 medals from morphological championships.
Mariscal XLIX
is son of the fantastic PRE stallion Estepeño XIII and grandson of Atlantico 1981, the most emblematic Cartujano stallion (of the "old blood").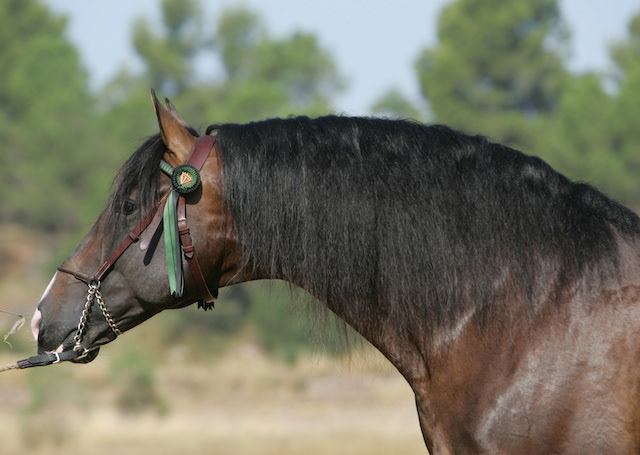 Gala's Mother: Camelia XXII
Galas VG's mother Camelia XXII is a champion mare of great beauty, qualified ("
Calificado
") and the winner of many medals in morphological competitions in Spain. Camelia is the grand daughter of the exceptional PRE mare 
Excentrica
(
Yeguada Militar
) and the famous PRE stallions
Reberte
, both sons of 
Gorron II
(
Bocado
). Camelia is a great grand daughter of
Agente
from the military stud (
Yeguada Militar
), one of the main pillars of the purebred Spanish sport horse of today.