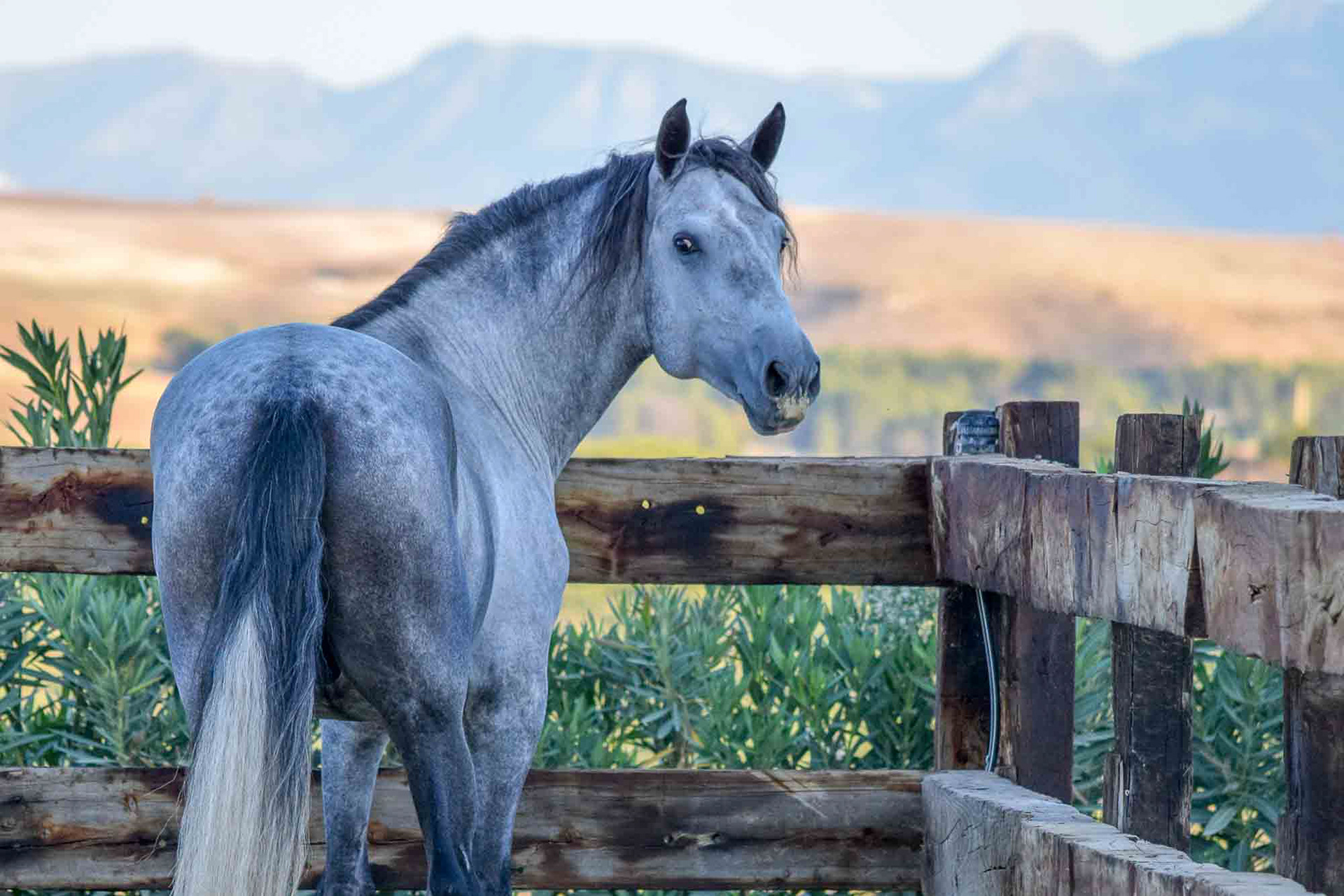 Atila Real is an expressive PRE Andalusian stallion with a beautiful Spanish look, strong back and very good legs and hooves. He has an excellent canter, an excellent trot and a very long, relaxed walk, and is one of our best movers. 
A lively horse with much energy, Atila loves to move and has always shown great skill, precision and artistry in handling his athletic body, both when playing with his brothers Alcázar, Alpha and Africano at home in the fields, and when he was later started under saddle. 
Atila has a lovely character; kind, sweet, well behaved and very easy to handle both on and off the arena. No stallion behaviour, including in the company with other stallions or mares, either on the arena or in the stables. 
Recommended for dressage, amateur or professional level. Registered with ANCCE, piro free & fully documented.
Breed
: PRE Andalusian (Pura Raza Española)
Height
: approximately 163 cm / 16 hh (+ / -)
Bloodlines
: Marin García, Bocado
Character
: Sweet, expressive, with a lot of energy
Ancestry
Origins: Marin García, Bocado
Atila's Father
Atila's father is
Fer Bulerí­a
 (Kanaka III x Mañoso II, Yeguada Ferrero), Reserve Champion of Spain. An Absolute Champion of Functionality, Absolute Champion of Movements and an Absolute Champion of the Breed, Fer Bulería is the winner of over forty medals in Spanish breed championships. He has competed in FEI dressage and is training at the Prix St George / Grand Prix level. 
Fer Bulería is a spirited and very energetic horse to ride. He has a huge and generous heart, and is always very willing with his rider. This complete and extremely functional PRE stallion typically transmits his generous character and expressive, elastic movements in all three gaits to his offspring. A long walk, beautiful trot, excellent canter and without any winging/dishing ("campaneo"), as well as a strong and healthy constitution is typical for Fer Bulería offspring.
Atila's Mother
Atila's mother
Esmeralda
CXXXV
is the dark bay daughter of Qualified PRE Andalusian stallion 
Masanor
, a Grand Prix-horse of the
Pestillo / Hispano IV
-line, the mother line of the Olympic PRE horse
Fuego de Cardenas
 (born 
Fuego XII
).
Atila's  Sisters & Brothers